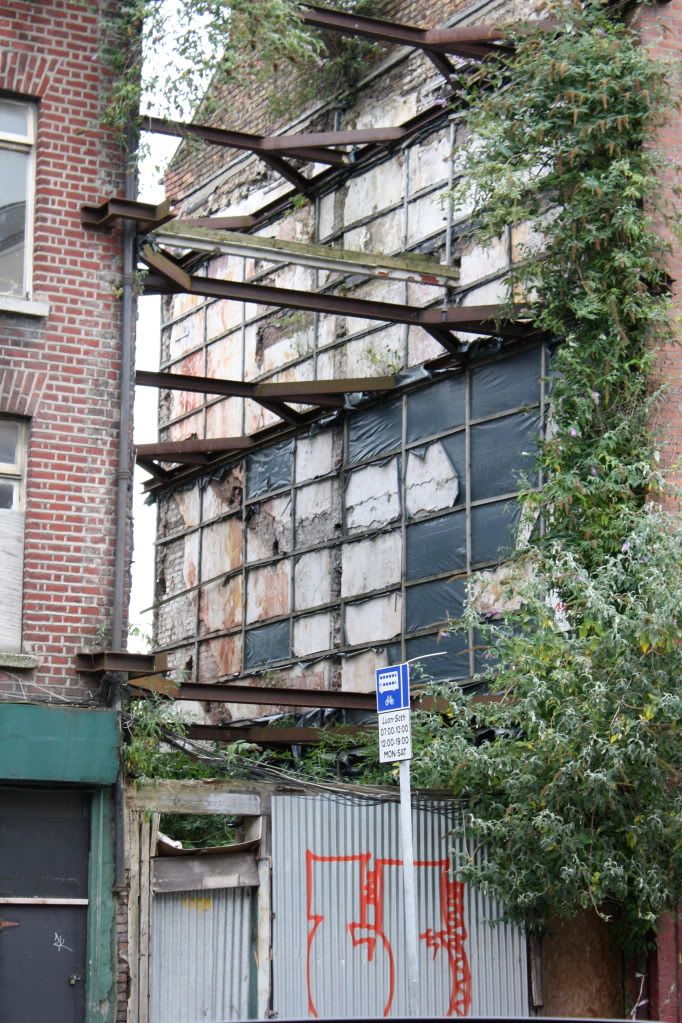 When arriving In Dublin City I caught an air-coach to O'Connell street In the heart of Dublin City, there was heavy amounts of graffiti but of a poor quality. It was mainly just tags and scrolls. However I then saw something allot more interesting, Buildings that were left abandoned In Dublin City were not left to sit and rot but instead simply torn off the street as you can see above. This was not rare to see in the city, on each street (especially the older ones) you should expect to see a vacant lot similar to this. When I arrived In Dublin city I had a closer look around and still only saw graffiti artist tags of poor quality, most of them had used metal paint on stone or wood surface which made it look even worse. But as I walked down s
ome of the Dublin backstreets and also out towards the edge of Dublin City another style of art seemed to emerge. Stencil art can be found everywhere in the city, and some of it is brilliant.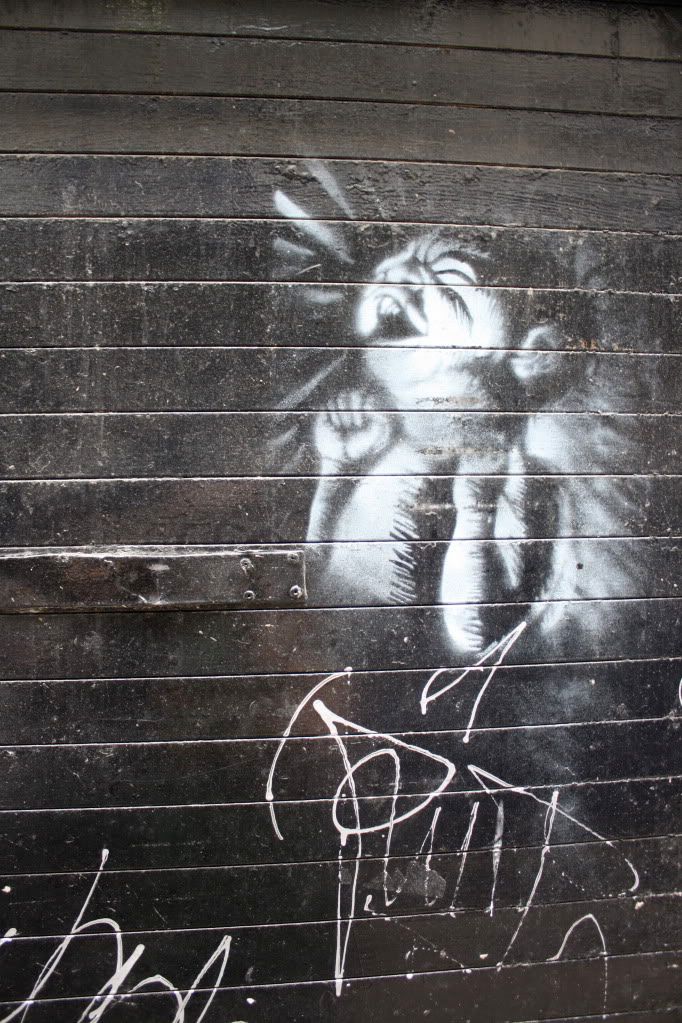 Lots of stencil art can be found both In and around the city however you do need to keep your eyes peeled because it will hideaway from your eye, also you might want to check out some of the side streets and alley ways to see some of the larger stencils. All of the stencils are not only just for decoration, there are more political stencils then there are just for show, The Treaty of Lisbon (also known as the Reform Treaty) is an international agreement signed in Lisbon on 13 December 2007 that would change the workings of the European Union, A popular political party Sinn Féin are against the change of this treaty and you will come across hundreds of political stencil art pieces around the city that are in support of Sinn Féin and against the treaty being changed.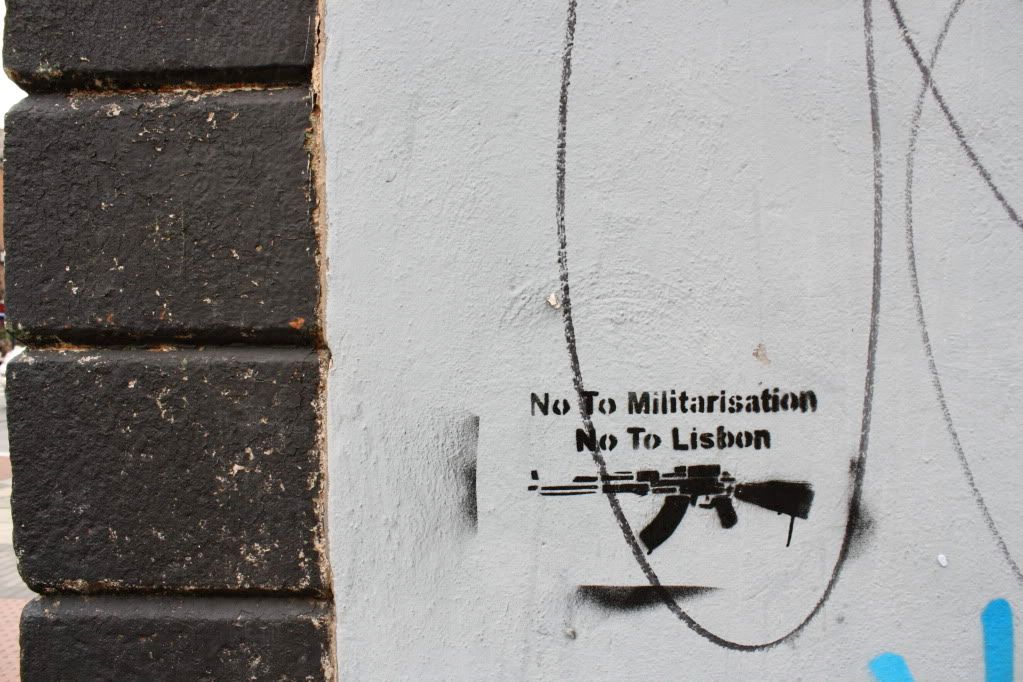 On the last day of my travel we visited the old Jameson Whisky distillery and on the way out I heard the sounds of a festival going on in the area we had a look around for this festival and came across a environmental festival with things like organic and health foods onsale, however we came across a guy painting graffiti art onto canvas, Towards the end of the holiday I started to think that there were no major graffiti organizations in Dublin but after seeing the skill of this guys work It changed my mind, he had done some amazing portraits that can be viewed in my gallery at the bottom of this blog.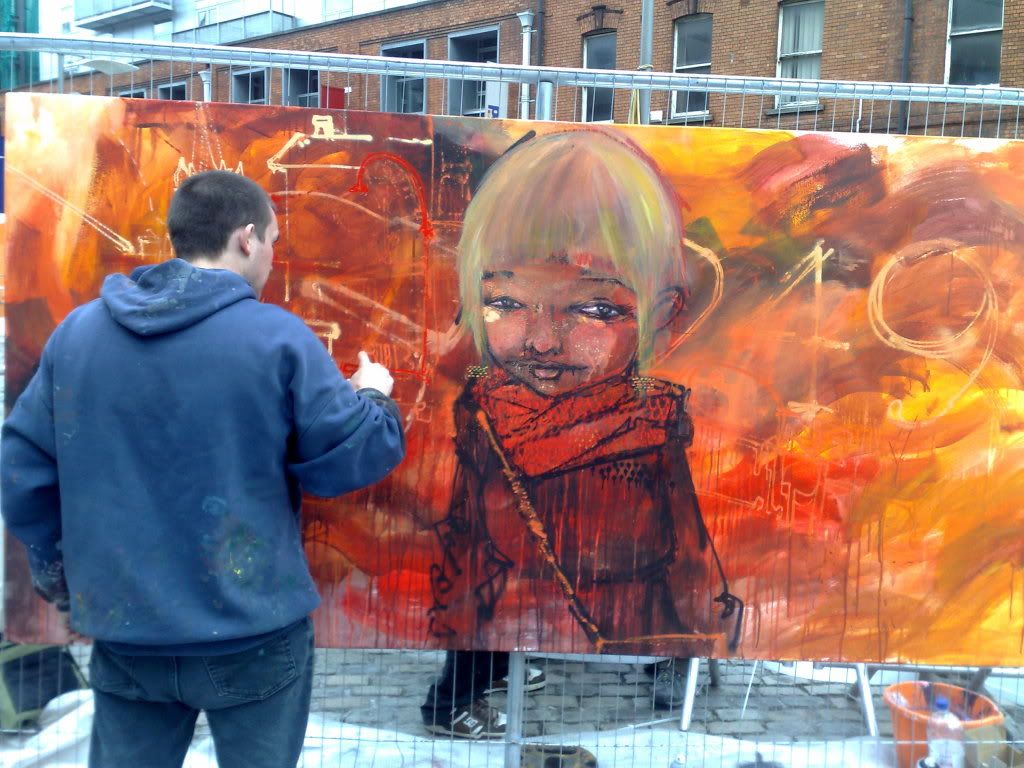 Finally the last thing I noticed was all over dublin was advertising stickers, they covered on the lamposts, ATM's and building walls, some of them were very attractive, the one that caught my eye was a sticker advertising a graphic design blogspot called "andalltha" he is a graphic designer all the way from paris and has some great work and designs, It was pretty amazing to find a graphic designer advertising his services in such a far away city, but it works, they caught my eye in a number of places, his work is WELL WORTH checking out, you can get to his blog by
clicking here